DNMT3B Inhibition To Inhibited The Development Of Skin Cancer With Cinnamon Essential Oil Compounds Through In Silico And Proteomic Studies
Khusnul Agustina

Universitas Gadjah Mada

Putri Anggraini Budianto

Universitas Gadjah Mada

Christopher Filando Santoso

Universitas Gadjah Mada

Rumiyati Rumiyati

Universitas Gadjah Mada
Keywords:
skin cancer, DNMT3B, Cinnamon, cis-2-methoxycinnamic acid
Abstract
Introduction: Cinnamon (Cinnamomum cassia) is often used as a medicinal plant because of its antioxidant properties. UV overexposure leads to many harmful impacts, one of them being the increasement rate of skin cancer risk. UV rays increase DNMT3B expression and ROS level. However, anti-skin cancer drugs that target DNMT3B have not been explored yet, and this study aims to explore cinnamon essential oil's potency in targeting DNMT3B to stop UV-induced skin cancer development.
Methods: The research was carried out through an in silico and proteomic approach. Research materials were obtained from various databases including CMAUP, ChEMBL, PubChem, Google Scholar, PubMed, and RCSB. The materials that have been obtained are processed using KNIME and MOE V.2010 software
Result: As a result, KNIME analysis showed many similarities between four of cinnamon's active compounds and DNMT3B inhibitors (azacytidine and decitabine). Three of the essential oil compounds; Cinnamaldehyde, cis-2-methoxy cinnamic acid, and coumarin are predicted to inhibit DNMT3B. Moreover, using the molecular docking approach, cis-2-methoxy cinnamic acid has more stable bonds compared to its native ligand (glycerol).
Conclusion: In conclusion, the active compounds in cinnamon essential oil were potential to inhibit DNMT3B and prevent skin cancer development with cis-2-methoxy cinnamic acid as the most potent inhibitory compound.
Keywords: Cinnamon, skin cancer, DNMT3B, cis-2-methoxycinnamic acid.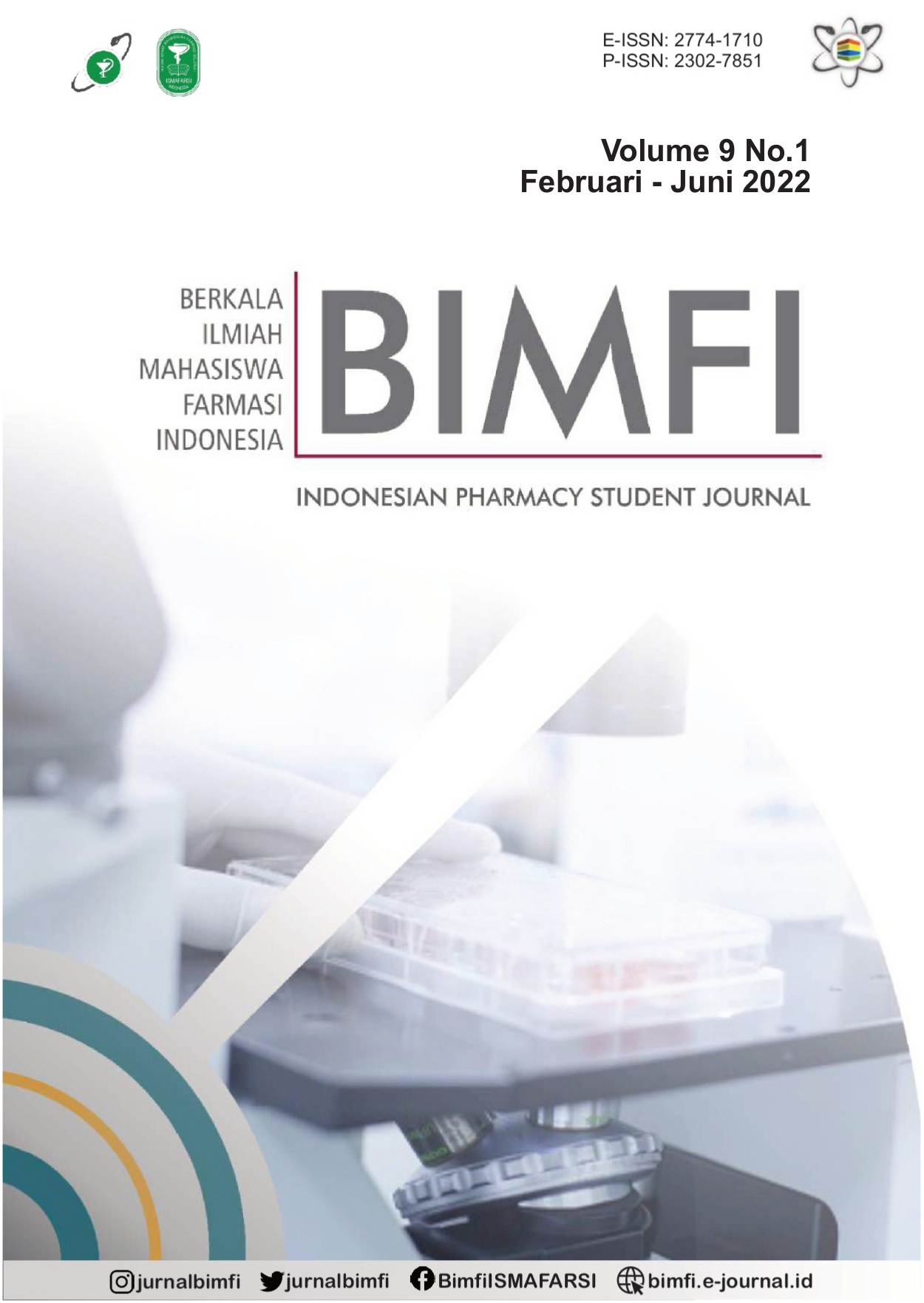 How to Cite
Agustina, K., Budianto, P., Santoso, C., & Rumiyati, R. (2022). DNMT3B Inhibition To Inhibited The Development Of Skin Cancer With Cinnamon Essential Oil Compounds Through In Silico And Proteomic Studies. Berkala Ilmiah Mahasiswa Farmasi Indonesia, 9(1), 49-57. https://doi.org/10.48177/bimfi.v9i1.92