IN SILICO ANALYSIS OF SKIN AGING THROUGH CELLULAR SENESCENCE PREVENTION VIA CD36 INHIBITION BY CINNAMOMUM ZEYLANICUM ACTIVE COMPOUNDS
Putri Anggraini Budianto

Universitas Gadjah Mada

Novia Permata Hapsari

Universitas Gadjah Mada

Dhiya Ulhaq Salsabila

Universitas Gadjah Mada
Keywords:
Cellular senescence, skin aging, in silico, CD36, Cinnamomum zeylanicum
Abstract
Introduction: Increased ROS (reactive oxygen species) and SASP (senescence-associated secretory phenotype) lead to skin aging via cellular senescence. CD36 (Cluster Difference 36) is found overexpressed in senescent cells and accepts various activators that generate ROS and SASP. Cinnamon (Cinnamomum zeylanicum) has been known to exert several pharmacological effects like antioxidant and anti-senescence. However, its anti-senescence effect on CD36 has not been reported yet. This study aims to prove that cinnamon's compounds are effective to inhibit CD36 in order to stop skin aging caused by senescence.
Methods: Literature studies and in silico approaches such as database searching, molecular docking, and KNIME open analytic platform were used in this study.
Result: Cinnamaldehyde is proven as a better competitive CD36 inhibitor (DICE Score: 0,886; Tanimoto Score: 0,939) with better affinity than native ligand and previously studied inhibitors (RMSD: 0,74 Å; S: -7,43 kcal/mol). Bioinformatics investigations also showed that major compounds of cinnamon target CD36 regulator, oxidoreductases, and SASP-producing receptors that co-expressed with CD36.
Conclusion: Active components of cinnamon are potential to be an anti skin aging by inhibiting CD36, regulating CD36, and eradicating senescent factors.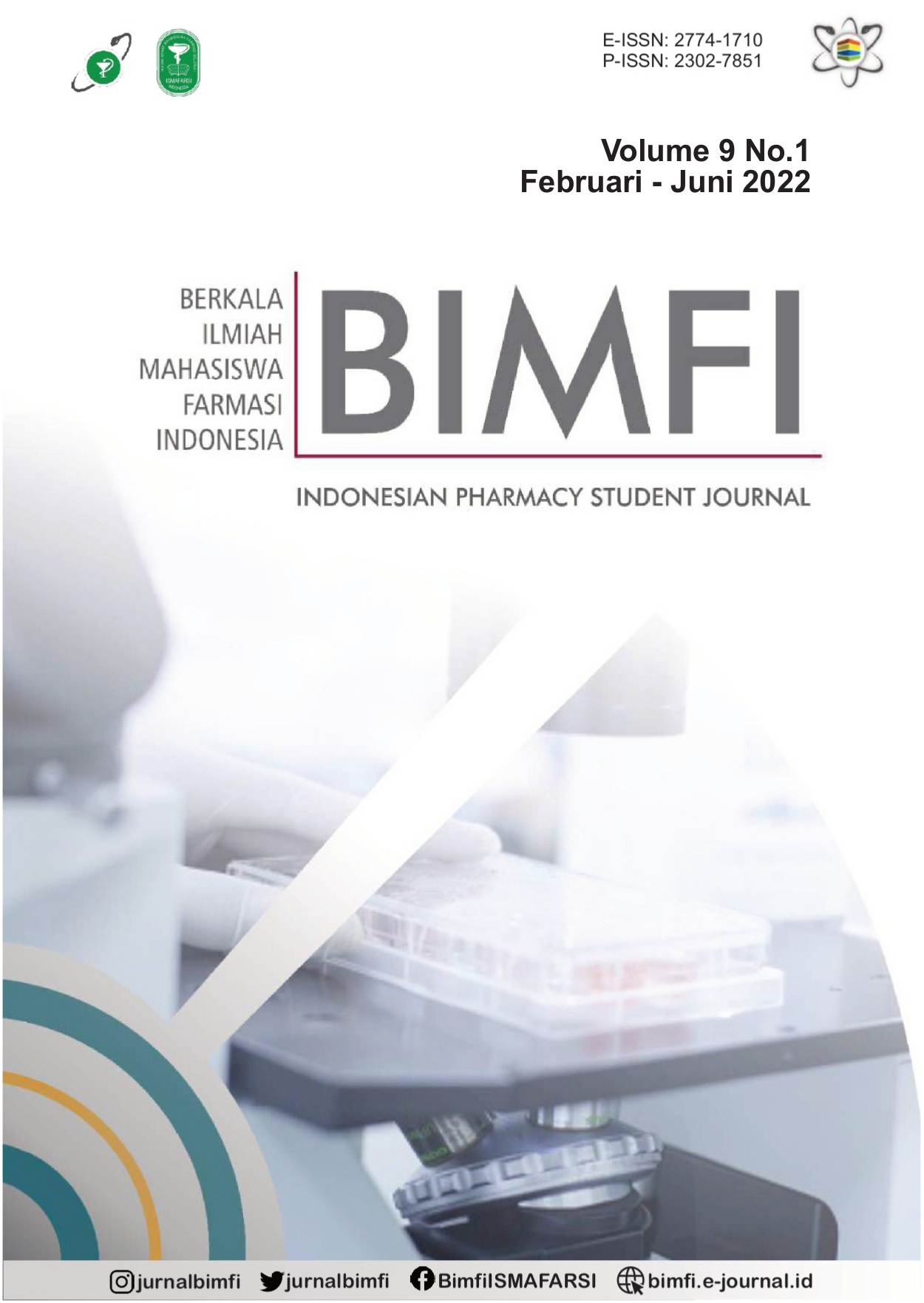 How to Cite
Budianto, P. A., Hapsari, N., & Salsabila, D. (2022). IN SILICO ANALYSIS OF SKIN AGING THROUGH CELLULAR SENESCENCE PREVENTION VIA CD36 INHIBITION BY CINNAMOMUM ZEYLANICUM ACTIVE COMPOUNDS. Berkala Ilmiah Mahasiswa Farmasi Indonesia, 9(1), 11-24. https://doi.org/10.48177/bimfi.v9i1.85