UTILIZING THE SYNTHESIS OF PIPERIDINYL-P-COUMARAMIDE FROM P-COUMARIC ACID OBTAINED FROM RICES HUSK (ORYZAE SATIVA) AS ANTICANCER DRUGS FOR LEUKEMIA
Athalia Theda Tanujaya

Universitas Indonesia

Steven Steven

Norman Emil Ramadhan
Keywords:
anticancer, p-coumaric acid, leukemia, piperidinyl-p-coumaramide, rice husk
Abstract
Introduction: In 2018, the incidence of cancer in Indonesia reached 136.2 per 100,000 population and leukemia cancer was in the fifth position as the deadliest cancer and has killed 11,314 lives. The high cost of treating leukemia has costed the funding budget in the JKN-KIS program up to Rp3.4 trillion. Researchers have tried to use natural ingredients to develop new anti-leukemia agents.
Content: One of the compounds that can inhibit leukemia cancer is piperidinyl-p-coumaramide, a derivative of p-coumaric acid which can be found and isolated from rice plant waste or Oryzae sativa. Each year, 79.2 million tons of rice are produced and generate 19.8 million tons of husk. The aim of this article is to utilize rice husk as a piperidinyl-p-coumaramide precursor for leukemia drug.
Method: The method used was stratified extraction of the husk waste using a water-methanol and ethyl acetate solution. The extract was then isolated and purified by TLC. After that, the assay was analyzed using HPLC. P-coumaric acid is modified into piperidinyl-p-coumaramide by reacting it with piperidine.
Conclusion: The activity of piperidinyl-p-coumaramide as an anti-leukemic cancer on p388 cells can be tested in vitro and in vivo. According to the literature study, 100 grams rice husk may generate 265.4 ± 2.4 milligrams p-coumaric acid that can be synthesized into piperidinyl-p-coumaramide which has IC50 around 5,34 µg/mL thus can be utilized as an anti-leukemia cancer.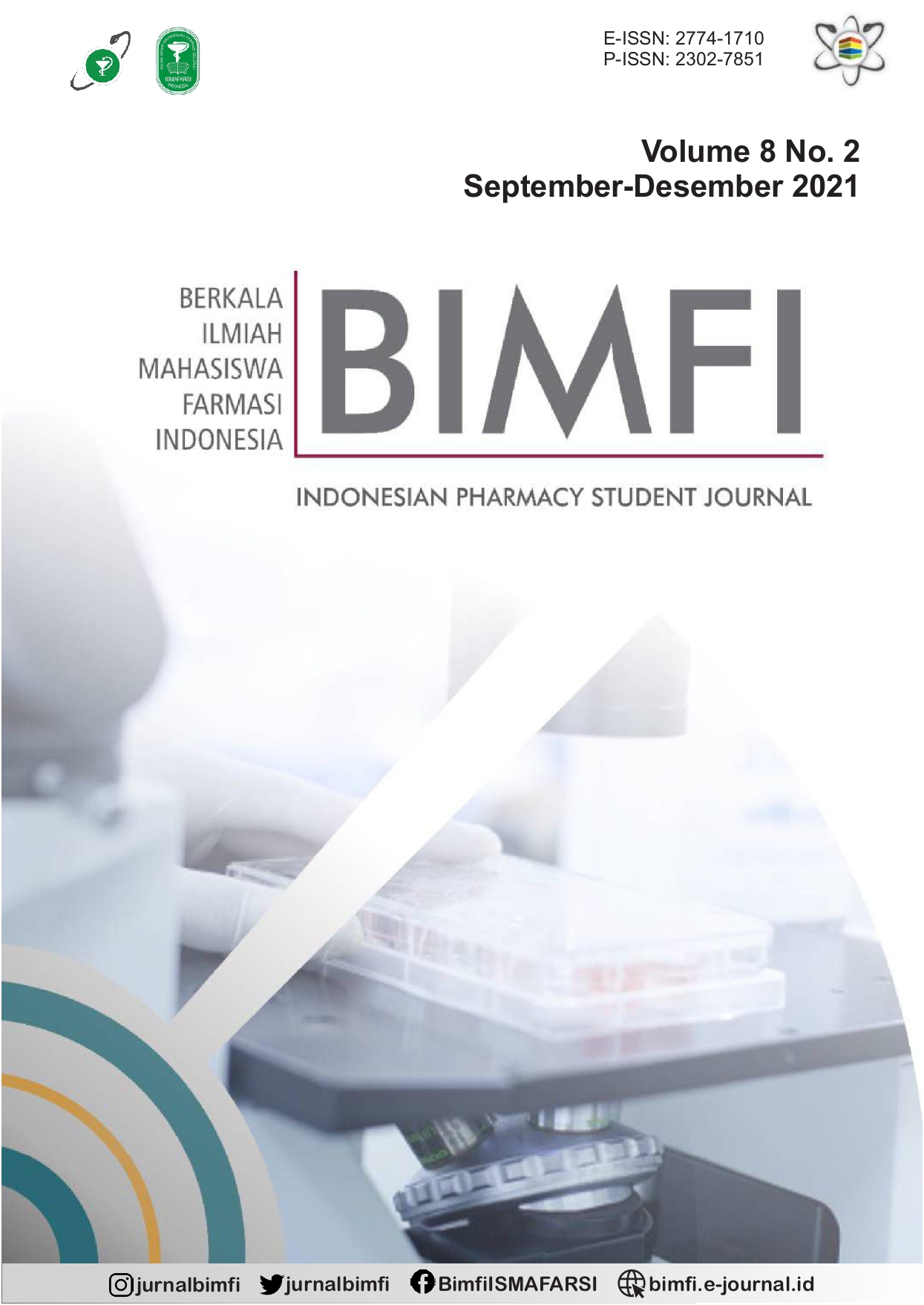 How to Cite
Tanujaya, A., Steven, S., & Ramadhan, N. (2021). UTILIZING THE SYNTHESIS OF PIPERIDINYL-P-COUMARAMIDE FROM P-COUMARIC ACID OBTAINED FROM RICES HUSK (ORYZAE SATIVA) AS ANTICANCER DRUGS FOR LEUKEMIA. Berkala Ilmiah Mahasiswa Farmasi Indonesia, 8(2), 28-36. https://doi.org/10.48177/bimfi.v8i2.43