Adverse Drug Reaction (ADR) in Outpatients in the End Stage of Chronic Kidney Disease in the East Java Branch of the Indonesian Dialysis Patient Community
Cross Sectional Method
Feliadewi Ruth

University of Ma Chung

Martanty Aditya

University of Ma Chung

Muhammad Hilmi Aftoni

University of Ma Chung
Keywords:
Hemodialysis, PGK, outpantients, ROTD, allergies
Abstract
Introduction: Adverse Drug Reaction (ADR) is a side effect arising from the use of drugs with normal doses. ADR might decrease quality of life, increase frequency to doctor, and death. ADR in patients with End-Stage Renal Disease (ESRD) has not been much studied. ESRD have a greater risk of experiencing ADR because the kidneys have decreased and the drugs can accumulate in the body. Study was conducted to determine the incidence of ADR in outpatients in the final stage of ESRD.
Methods: This study use cross sectional method. Demographic data and ADR status were collected from members of the Indonesian Dialysis Patient Community in East Java. Drug data had grouped into drugs that potential and no potential for ADR, then an analysis with a Chi-square test to find correlation of potential ROTD drugs and the incidence of ADR in outpatients in ESRD.
Result: There are 62 respondents in this study who fulfilled the inclusion. From the test between the characteristic and ADR is a correlation between allergies and ADR (p = 0.018). Based on the results of the Chi-square test between the use of potential ADR drugs with the incidence of ADR in outpatients in the final stage of the patient did not have a correlation (p value = 0.812).
Conclusion: From this study it can be concluded that there is no correlation between potential ROTD drugs with the incidence of ROTD in end-stage CKD outpatients (p = 0.812).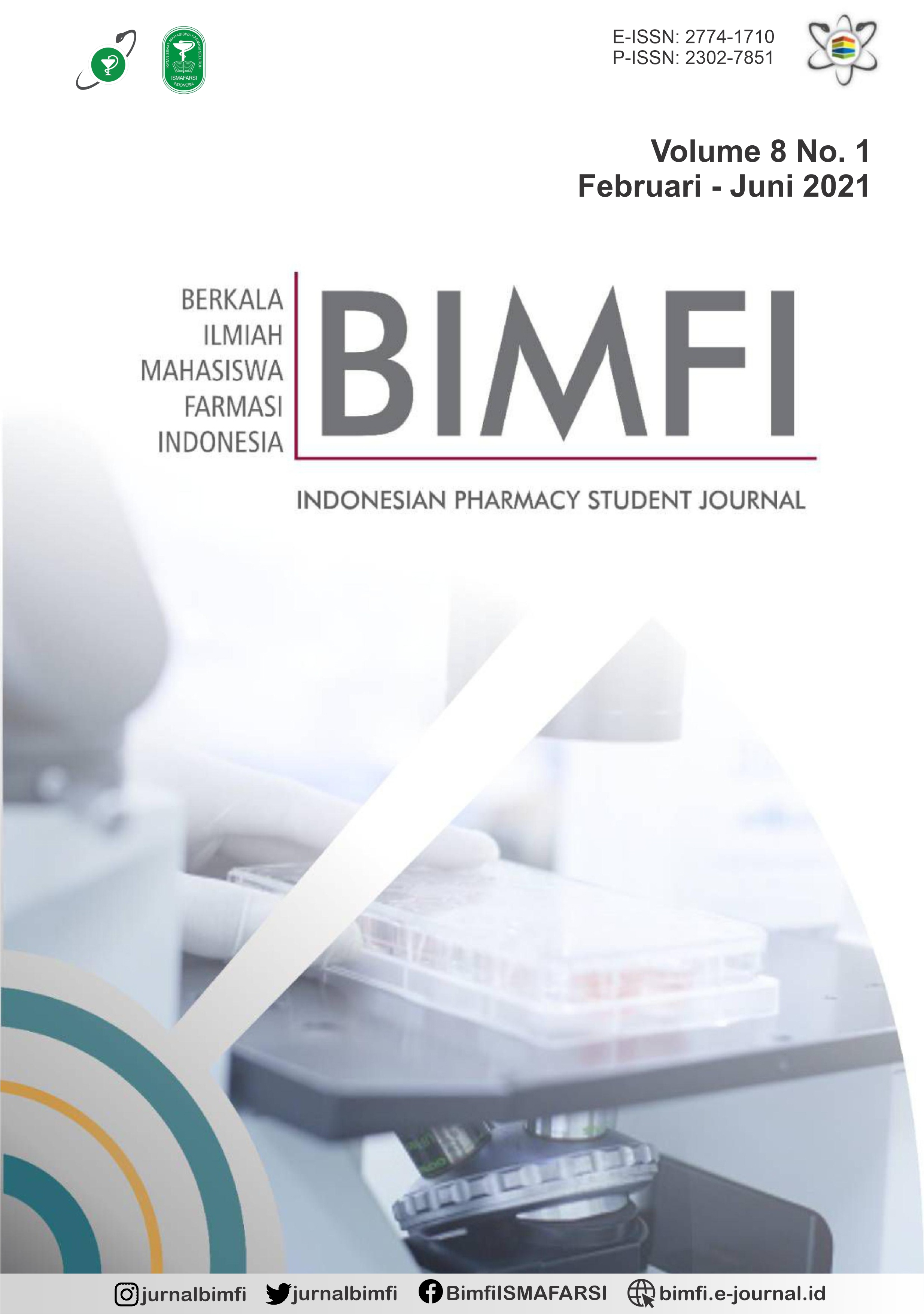 How to Cite
Ruth, F., Aditya, M., & Aftoni, M. H. (2021). Adverse Drug Reaction (ADR) in Outpatients in the End Stage of Chronic Kidney Disease in the East Java Branch of the Indonesian Dialysis Patient Community. Berkala Ilmiah Mahasiswa Farmasi Indonesia, 8(1), 1-12. https://doi.org/10.48177/bimfi.v8i1.60